As a parent to a teenage child, the prospect of discovering that your child is caught up in substance abuse or addiction can be devastating. Addiction is a complex disease and it is not an easy challenge for any parent to face. Yet, it is important to remember that addiction is treatable and that recovery is possible. It is important for parents to be educated and informed on the best ways to help their child obtain the necessary treatment.
The first advice to parents of addicted teenagers is to accept that your child has a problem and that they need help. Often times, parents can be in a state of denial if their child has an addiction. They may convince themselves that substance use is simply a part of growing up and they may even go to extreme measures to protect their children from facing any consequences or accepting responsibility for their addiction. Denial can be a deadly problem for families struggling with addiction and it is important for parents to accept the reality of the situation and be open to getting help.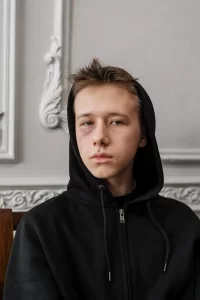 The second piece of advice is to remain calm and avoid passing judgement. It is easy, when caught up in the throes of addiction, to be filled with anger or frustration. It is important, however, to remember that addicted teens often have co-occuring mental health conditions or have underlying trauma that is contributing to their addiction and substance use. Consequently, it is important to remain calm and to focus on providing love and support rather than judgment in order to help your teen work through the issues that led them to addiction.
Third, parents need to find the right type of treatment to fit their teen's needs. There are various levels of addiction treatment, ranging from inpatient rehab to intensive outpatient programs, and it is important to find the right fit that will work with your teen's specific recovery needs. In addition, parents should research the quality and effectiveness of treatment programs to ensure that their teen will be receiving the highest quality care possible.
Fourth, parents should be actively involved in their teen's treatment. It is important to be supportive and be willing to engage in family counseling and activities with their teen's care team. Parents of addicted teens should also create a safe and stable environment for their teen to come home to after treatment. This can include providing a welcoming lifestyle that will help your teen orient towards recovery and avoiding triggers or situations that may spark a relapse.
Finally, parents should be prepared for challenges and setbacks during the recovery process. As with any condition, addiction treatment is not a one size fits all approach. Recovery is a lifelong process and it is important for parents to learn the techniques needed to help their teen through the various challenges they may encounter. In addition, parents should stay mindful of their own mental health and ensure their own needs are met in order to best support their teen.
By following these pieces of advice, parents to addicted teens can be better equipped to provide the necessary help and support to their teen's recovery process. Addiction is a complicated and often misunderstood condition, but with the right type of care and guidance, recovery is possible.